Rich Autumn Inspired Hessonite Garnet Tree of Life Pendant in Brown and Copper Wire
The warm, rich colors of Autumn are celebrated in this one-of-a-kind Hessonite Garnet gemstone Tree of Life pendant. Set in a chocolate brown square frame, copper wire is used as the roots, trunk and branches of the piece.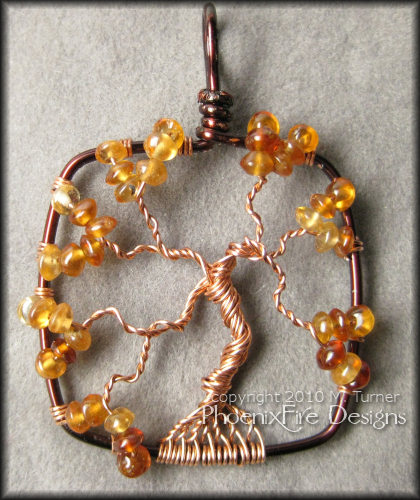 Garnet comes in various color groups. This piece uses Hessonite Garnet which is in the grossularite group. It ranges from honey-yellow, through orange-brown and into brown-red at it's deepest colors. Hessonite Garnet is nicknamed, "Cinnamon Stone" due to this lovely color variety.




THIS PIECE IS ONE OF A KIND. I was lucky enough to get my hands on some of this beautiful Hessonite Garnet and made this but I don't have any left so it's a one shot creation. Whether as a gift, or for yourself, this, unique, signature piece would be a great addition to anyone's jewelry collection.

Available For Purchase Here



... and ....


Under A Full Moon - Tree of Life Pendant in Silver Wire with White Pearl Shell (Winter)
Every time I list one of these pieces, they sell out pretty quick. One thing or another has kept me from making another one so for months now, it's not been available on the shop. But today finally there's a new one listed!




"Under A Full Moon" is a unique take on the popular Tree of Life pendants I'm famous for. There are no "leaves" in this piece. Instead, it celebrates bare branches of a tree against a night sky.

Available for Purchase Here



Don't forget, the holidays are getting VERY close now! Why not get something unique, handcrafted and beautiful this year? We gladly accept custom orders and custom quantities so if you have an idea for something unique, just ask!

Keep your eye on The Etsy Storefront for new listings and the PhoenixFire Designs' Blog for custom orders and other unique creations!

Thank you for your continued support!